China Unbound: A Musical Journey
November 17th, 2018
7:00 PM – 9:00 PM
Mary Ward Catholic Secondary School Theatre
Free Admission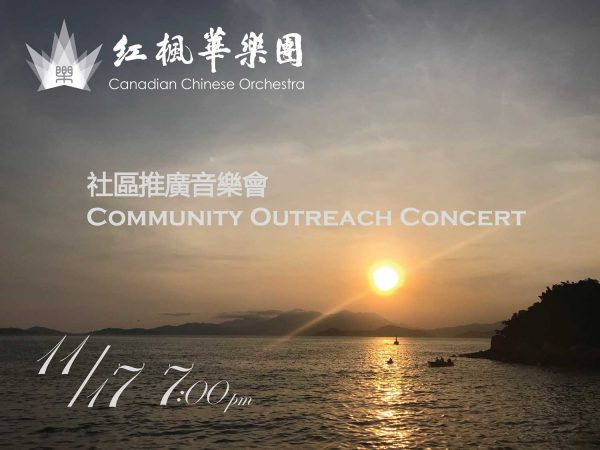 As part of Canadian Chinese Orchestra's community outreach program. The Canadian Chinese Orchestra is hosting a free open to public concert on November 17th, from 7:00PM to 9:00PM at Mary Ward Catholic Secondary School Theatre supported by the Canada One Family Network. The concert will be presented in an informal style, to introduce the repertoire to the audiences before hand and performing after. The concert will be conducted by Amely Zhou (Artistic Director of CCO) and Wang Yi (Assistant Conductor of CCO).
As a feature piece of the concert night, Fisherman's Song at Dusk will be performed by talented performers from Canadian Youth Chinese Orchestra. This piece was composed in 1930s by Shuhua Lou, a representative of the Henan Guzheng repertoires. Depicting sun setting at dusk reflecting on the water, fisherman leisurely spreading the fishing net on the small wooden boat.
In this concert, we will feature our young dizi soloist Sophie Du as she won the Canadian Youth Chinese Orchestra's concerto competition. She was born in Canada and have studied the dizi under the tutelage of Lipeng Wu for more than 6 years now. Her control over the timbre and tone of the dizi is praised by the adjudicators as soothing and sweet. In this concert, she will present a Taiwanese folk song inspired by the scene of busy tea pickers on the mountain of Lugu, accompanied by the CCO.
CCO's very own young pipa virtuosa, Lilian Yang will also be playing a famous pipa piece called 'Give me a rose'. A xinjiang folk tune composition for solo pipa, written in 1961 by Fandi Wang.
The CCO will present the following repertoires as highlights of the concert event:
Racing Horses Composed by Haihuai Huang 赛马 黄海怀作曲
Flower Festival Composed by Ye Xuran 赶花会 叶绪然作曲 周嘉丽 改编
Festive Overture Composed by Jiping Zhao 庆典序曲 赵季平 作曲
Golden Snake Dance Composed by Er Nie Rearranged by Chiu-Shing Ng 金蛇狂舞 聂耳作曲 吴朝胜 改编
This concert is a musical feast to the world of Chinese traditional instruments, with folk songs influences from different parts of China. The audiences will be able to take home each unique and carefully chosen repertoire with new insights for Chinese culture.
*Thanks to Andrew Timar for the Title