Amely Zhou
Artistic Director and Conductor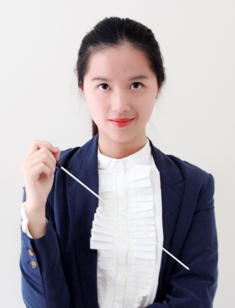 Artistic Director and Conductor, Amely Zhou  An expressive and dynamic figure on stage, Canadian Chinese musician Amely Zhou pursues a diverse career both as a conductor and an erhu soloist. Zhou is currently the Resident Conductor of the Toronto Youth Chinese Orchestra, and the Artistic Director & Conductor of the Canadian Chinese Orchestra. Zhou frequently appears on stage at Markham Theatre leading the Yip's Montessori Chinese instrumental ensemble. Recent highlights include leading the Canadian Chinese Orchestra on stage at the Chinese Cultural Centre, P.C. Ho Theatre and being invited by the Toronto Chinese Orchestra as Guest Conductor in their 2017 winter concert program.
As an erhuist, Zhou toured with the Canadian Sinfonietta Youth Orchestra as a guest performer in 2016. Other than erhu, Zhou also plays guzheng, dizi, and piano. Zhou received Artists in Education grant from the Ontario Arts Council for teaching Chinese musical instruments in the public school sectors in 2015. As an ingenious and collaborative musician, she has premiered more than thirty new works by composers around the world. Zhou was featured on the cover of The WholeNote magazine in May-June issue 2017, and Andres Timar wrote in the cover story that "The high value she places on connecting with fellow musicians and audiences is among the most distinguishing features of her playing."
While enrolled at York University, she won the university's 2013 Concerto Competition as the erhu soloist in the Red Plum Capriccio. Zhou graduated in 2015 from York with an Honours B.A. in Music, and that year was accepted into the prestigious Shanghai Conservatory of Music summer program with a full scholarship to continue her erhu studies. Currently, Zhou is perusing her Chinese music studies and continuing her graduate studies in Ethnomusicology at York University.