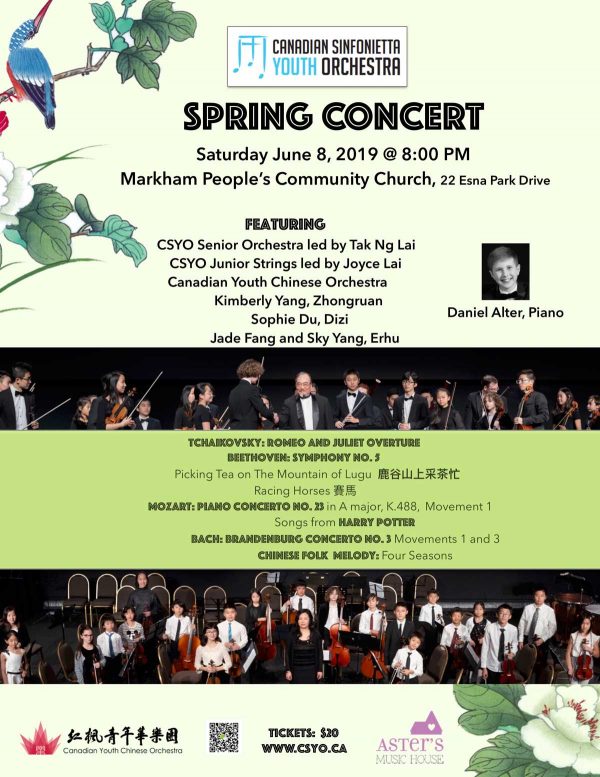 Each year during CYCO auditions, panels of adjudicators will select the best players of CYCO to collaborate and perform traditional Chinese musical works with the Canadian Sinfonnieta Youth Orchestra. This year the adjudicators have selected Jade Fang, Sky Yang, Kimberly Yang and Sophie Du to represent CYCO to collaborate with the CSYO. Sky Yang and Jade Fang will be playing a erhu piece racing horses with the CSYO. Kimberly Yang(Zhongruan) and Sophie Du on(dizi) will be performing Pickig tea from the Mountain of Lugu. This collaboration and project helps encourage the learning of Chinese instruments and getting a closer look at Chinese culture through musical exchange. The CYCO is a proud sponsor and supporter of CSYO activities.
Date: June 8, 2019
Location: Markham Peoples Community Church
22 Esna Park Drive. Markham, Ontario
Time: 8:00-10:00pm
Hello! My name is Sophie Du and I played Dizi (Chinese Bamboo Flute) for almost seven years. I first started to learn this instrument with my teacher LiPeng Wu when I was just eleven years old. Throughout my learning path, I took part in many orchestras and participated in lots of performances. I used to be part of the Toronto Chinese Orchestra (TCO) but withdrew from the group due to my braces. But now, I joined another orchestra and is currently a dizi player of the Canadian Youth Chinese Orchestra (CYCO). Each year, we would go to different locations and perform many pieces of music such as the Shepherd's Song and the Jasmine Flower. For me, the places that I currently performed at include the Sony Center for the Chinese New Year Gala 2019, the Art Gallery (AGO) and the Markham Theatre. Furthermore, not only that I play music with the orchestra, but I also participated in several competitions and won many awards such as first-place in Yip's Musical Festival from 2015 to 2017, etc. Due to these achievements, I got my first job in 2016 as a teacher's assistant for Yips Music Summer Camp and that really got me prepared for the working world and the future.
Jade Fang has been playing erhu for 7 years now, I'm really glad that I can insist playing erhu for such a long time. My music career did not start from Erhu, I also learned hulusi and piano before. I did not find erhu very attractive at first when I was just a child, but as time went by, I got to know more and more about erhu, and gradually found the magic of it. I just finished my grade 6 exam, and I'm looking forward to go further on this "erhu path". I'm also really grateful for having Amely as my instructor as well as the conductor and instructor in CYCO.she is very kind and generous, and is the person who encourages me the most. Because of Amely, I got to know so many great peers who have the same interest and dream as me. I'm thankful for her trying so hard to gather us as CYCO Orchestra, and gave us the opportunity to explore the outer world, make new friends and spread Chinese music and cultures to more and more people in the world. I'm definitely going to learn more Chinese instruments and explore their beauty, but I think erhu will still be my favourite.
我已经学习了七年的二胡了,我也很高兴我能坚持下来。我的音乐生涯并非从二胡开始,我之前也学过葫芦丝和钢琴。我小的时候并没有发现二胡的魅力之处,但随着时间的推移,我开始越来越了解二胡,逐渐发现它的神奇与美丽之处。我刚刚完成了我的二胡六级的考试,我也期待在这条"二胡路"上越走越远。我非常感谢我的导师Amely, 同时也是CYCO的指挥与指导老师,她非常善良和慷慨,并且也是一直鼓励我的人。因为Amely,我认识了很多与我有共同兴趣和梦想的朋友。我很感谢她努力将我们聚集在一起作为CYCO乐团,并让我们有机会探索外面的世界,结交新朋友,并向世界上更多的的人传播中国音乐和文化。我肯定会学习更多的中国乐器,去探寻他们的美丽,但我认为二胡仍将然是我最爱的乐器。
Hi, my name is Kimberly Yang, currently a grade 10 high school student. Amongst CYCO, the instrument I play is a plucked instrument called the zhongruan. With four strings, it produces a rich and vibrant tone, and within orchestra, it can be relied on as the bass section majority of the time. I've been playing zhongruan for the past five or six years, and it has become a major part of my life and who I am, as it helps me musically to better understand how to incorporate oneself into an orchestra, as well as the overall background of Chinese instruments as a whole. At the moment, I have currently finished playing level 6 in terms of Chinese instrument exams, and hope to continue further in the future. Aside from zhongruan, I also play the piano, as well as the alto saxophone, both which I have pursued for over 5 years. As well, music, in general, is a major part of my life. For example, I have participated within choirs starting at a young age and compose music too. With playing my zhongruan, in the past, I've participated a lot within different kinds of concerts. For example, recently CYCO held a performance at the Markham FLATO Theatre. Playing all different types of songs with different levels of difficulty, it was definitely an enjoyable moment which I know will be reproduced in future concerts amongst CYCO. When my parents first showed me this world of Chinese instruments, I was given the option of zhongruan. It fascinated me because unlike many other instruments, I had never actually heard of it before. This idea of playing an uncommon instrument known to people outside of the Chinese instrument community pulled me into playing zhongruan, and now knowing how to play it, I hope to be able to teach others more about it.
My name is Sky, currently 11 years old, and the Chinese instrument I play is the erhu. The erhu being a string instrument, it has two strings. These two strings have different ranges of notes, one string being a range of high notes and the other being lower. For orchestra, majority of times, it plays the main melody. I have been playing the erhu for 6 years, and at the moment I am playing level 6 amongst Chinese instrument exams. Aside from erhu, music as a whole is a major part of my life. Currently, I am learning a second Chinese instrument, which is the Suona, and at school, I am playing the bass clarinet. Not only that, but I compose music, having won multiple provincial competition. I won first provincially and 4th federally with my composition in 2017, which was called "Sailor's Tale." In the past, I have been a part of many performances orchestrated by youth orchestras I was in. As well, I have been invited to perform my original composition "Sailor's Tale" as a duet with the erhu performed by Amely. I have only joined CYCO for a little amount of time, but we have been playing many songs already that we will be playing in the near future. I enjoy playing the songs in CYCO because they are new to me, unlike very popular songs that I have played many times. Some songs are also quite difficult, which I enjoy as this makes me practice more on the songs. I think that CYCO is great because everybody in the orchestra has different levels of skills with their instrument, but we all are kind to each other and we treat one another with respect. When first choosing my Chinese instrument, I was immediately drawn to the erhu for its sound, as it has this rich and soothing tone. Hopefully, through playing my instrument, and orchestra, I can spread the word on this incredible instrument.