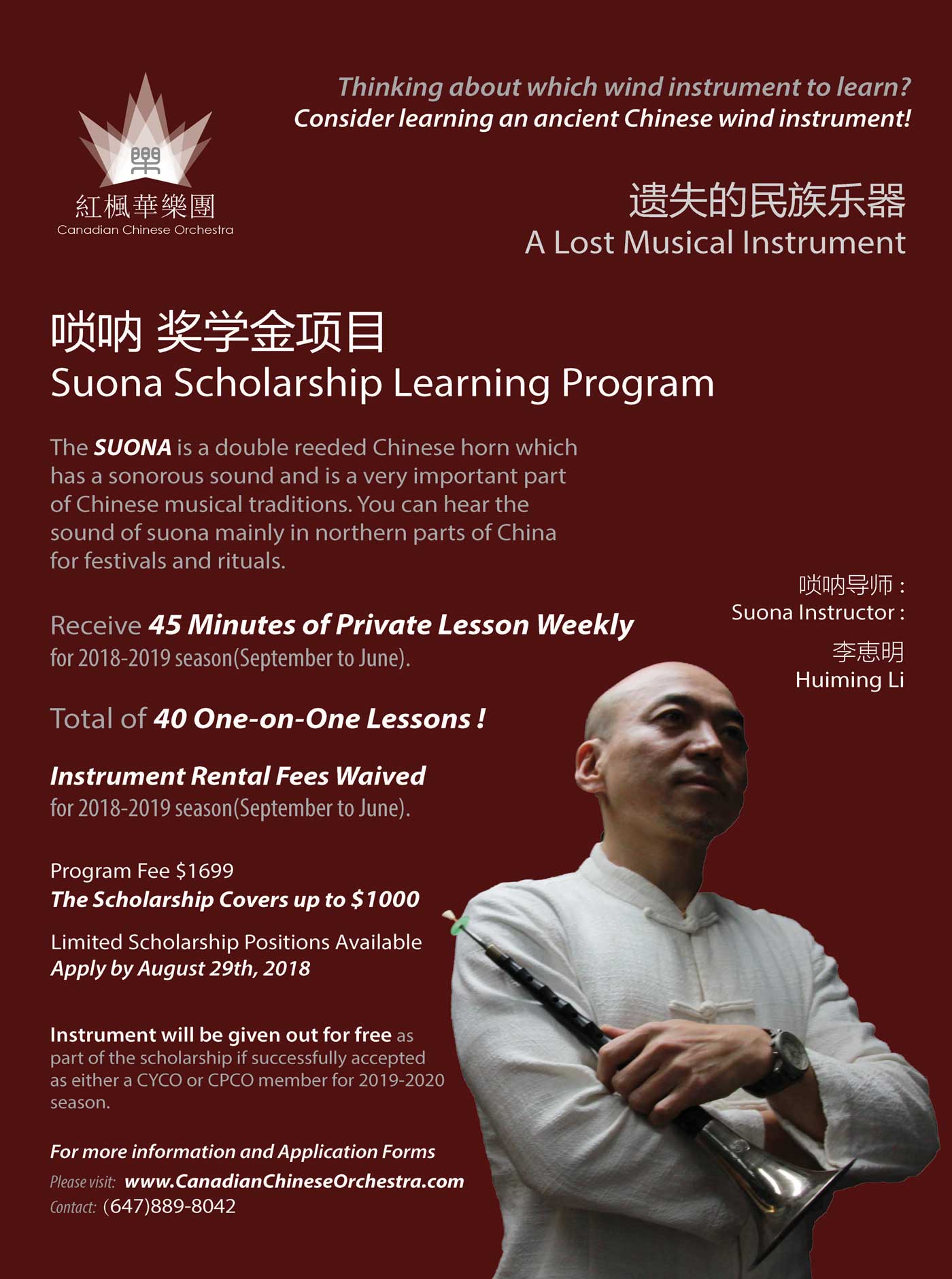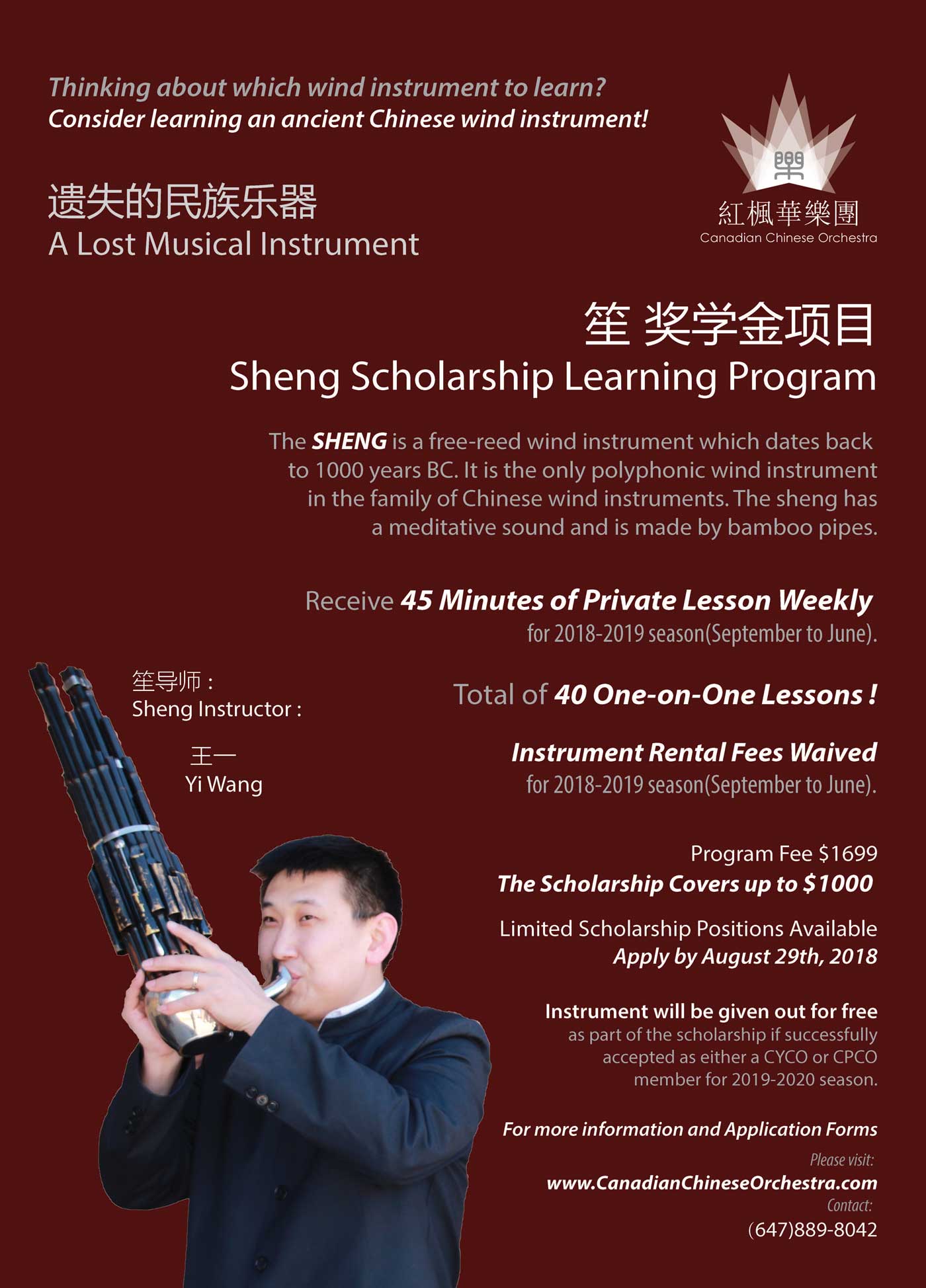 Ancient Chinese Musical Instruments
古老的中国传统乐器
Canadian Chinese Orchestra has launched a brand new educational program Ancient Chinese Musical Instruments during our 2019-2020 season. Mainly to promote and encourage learning of the Sheng and Suona. These two instruments are very important parts of Chinese traditional music family. Successful applicants will receive scholarship to learn one of these instruments and the instrument will be given out as part of the scholarship.
What are the benefits of the program?
Expand the knowledge of playing wind instruments
Learn a rare instrument that others are curious about
Actively join Chinese festive events and perform with a Chinese Orchestra
A closer encounter with Chinese culture and Chinese language learning through music
An unique experience to work closely with a professional music teacher
Performance opportunities towards the end of the program (May 2020)
Who is eligible to apply for the program?
Anyone who are older than 8 years old
People who have previous musical training knowledge will be considered first
Residents of Greater Toronto Area
How much does the program cost?
Instrument Rental Fee: WAIVED upon acceptance into the program
Instrument Deposit Fee: $200.00, will be returned at the end of program if there are no damages to the instrument
Program Fee: $1699.00 for one year of 45 minutes private lessons, approximately 40 lessons (September 2019 to June 2020)
Scholarship
Applicants age ranged from 8 years old to 17 years old will automatically be rewarded the scholarship prized at $1000.00 (Payment would be $699.00 + $200.00 Instrument Deposit for the program)
Applicants born before 2002 January 1st will have to write a small paragraph and request the scholarship for the amount up to $1000.00, the approved amount maybe smaller than requested
Payment Options
Enclose one cheque with your application. (payable to: Hong Feng Canadian Chinese Orchestra)
If you are paying in Cash, you can also hand it in on the first day of program
Registration Fee cheque(s) will be returned via mail to unsuccessful applicants.
What is the time commitment for program?
There will be weekly private lessons to be arranged between the teacher and applicant upon acceptance into the program, either in the form of 45 minutes one to one format or 1.5 hour of semi private lesson format. Students are expected to join extra rehearsals starting February 2020 to rehearse for the May 25th 2020 performance. 
During Lessons:
The following are a list of guidelines that we expect to be followed in order for the smooth and functional operation of the ensemble. We want to make the most of our time together. Please read the list carefully and sign the acknowledgment form page.
Lesson Rules:
Please arrive 5 minutes earlier for each lesson
Students are expected a minimum of 5 hours of practice time each week
No food or drink are permitted within the lesson space. Water with a tightly sealed lid is acceptable
Please bring your music, instrument, and pencil to lesson
Be respectful to the teacher
Absences:
For first three absences, teacher could make up the lesson with student upon arrangement. Beyond three absences, teachers are not responsible of making up the lesson time.
Please notify the instructor at least three days prior to any absence
Absences which are excused from the above statements include: funeral services, school exams, and family emergencies. If you have any questions please speak with the teacher
The Canadian Chinese Orchestra reserves the right to terminate the program if the students have not meet the above terms.